Create Your Amazing Mini Pinball Machine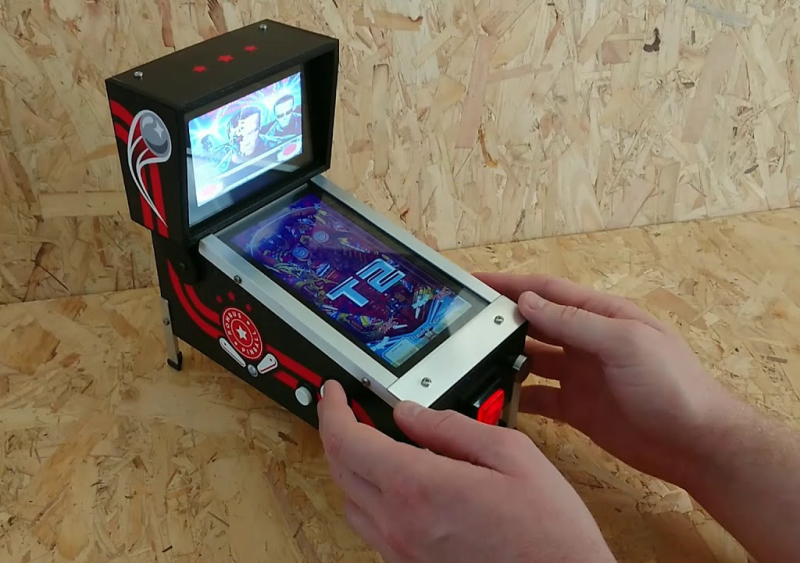 If you enjoy a game of pinball, you are sure to be interested in this awesome Rombus Pinball emulation station created by developer and maker Matt Brailsford aka Circuitbeard.
Finding the pinball emulation community lacking for Linux, the maker turned to the LattePanda, a tiny Windows 10 SBC with a built-in Arduino Leonardo. This was really the perfect board because he needed to support multiple displays with a minimum of fuss. That Leonardo comes in handy for converting button presses to key presses inside the Visual Pinball emulator.
Selecting the LattePanda did have a nice side benefit, in that the official 7″ screen that he used for the main play area plugs in via a ribbon cable. This leaves an HDMI socket free to extend the desktop onto the second screen mounted vertically for the back glass display.
Physically, the unit measures 26 x 14 x 25cm tall including the legs, so it won't take up too much space when not being played. Buttons are available for the flippers, mag save (to avoid guttering — available in some games), along with other user interface controls. Due to size restrictions, the device doesn't have a mechanical plunger, but instead works via capacitive touch.

For more details on the full build as well as full instructions and a list of all the components and development boards you will require jump over to the Circuit Beard website.