BLE Micro EVB v2.0 is a Bluetooth 4.0 Development Board for Wearable Projects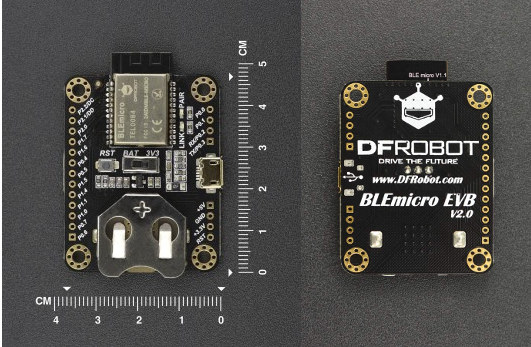 BLEmicro series, made by DFRobot, is Bluetooth 4.0 development kits specifically designed for professional developers. It is equipped with all the Bluetooth features of Bluno (an Arduino uno form factor development board) main controller, which can help the developers to achieve remarkable results.
In addition, the latest firmware V1.8 is able to support the AT command operation and transparent transmission by serial port to switch the mode.
The module can be powered by USB or button cells. When powered by button cells, it can be used as iBeacon. However, at present, DFRobot is unable to provide the corresponding App and software.
BLE Micro features:
Support debugging BLE via AT command
Support host slave mode switching
Support transparent transmission via serial port(only compatible with UNO and Arduino)
Support Arduino program remote updating(Bluetooth 4.0 wireless programming)
Support updating BLE firmware via USB
Support Bluetooth HID, easy to upgrade BLE firmware, fit for Android and IOS, open source, suitable for secondary development.
Support iBeacon
Board specifications include:

Bluetooth Chip – Texas Instruments CC2540 8051 MCU with USB, Bluetooth 4.0 LE connectivity
Wireless Connectivity

Frequency: 2.4GHz
Transfer rate:  ≤1Mbps
Modulation: GFSK, Bluetooth low power, V4.0
Sensitivity: -93dB
Transmission distance – 30m in free space

USB – 1x micro USB port
Expansion – 21 through holes with reset, power signals, UART, and GPIOs.
Input Voltage: +3.3 DC
Power Consumption – Working: 10.6mA average, ready mode:8.7mA
Temperature Range – -10 ℃ ~ +65 ℃
Dimensions – 49mm x 35mm
Typical applications include iBeacon, HID connection, wearable equipment, and Bluetooth development.