Arduino WiFi Shield 101 available in USA
By
Staff
on October 2, 2015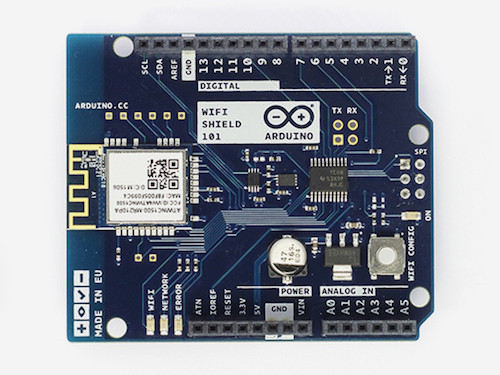 Arduino WiFi Shield 101 is available now on store at about $49.90. Nice module very useful for all the IoT developers!
Arduino WiFi Shield 101 is the new IoT enabler shield based on the ATWINC1500 module developed with ATMEL, that connects your Arduino to the internet wirelessly. Connecting it to a WiFi network is simple, no further configuration in addition to the SSID and the password are required.

The WiFi Shield 101 comes with an easy-to-use library that allow to connect you Arduino board to internet with few instructions.The WiFi Shield 101 also features a complete asymmetric (public/private) hardware key cryptographic signature solution that is an ultra secure method to provide key agreement for encryption/decryption, specifically designed for the IoT market.

As always with Arduino, every element of the platform – hardware, software and documentation – are freely available and open-source. This means you can learn exactly how it's made and use its design as the starting point for your own projects.

Requires an Arduino board (*) (not included)
Operating voltage 5V (supplied from the Arduino Board)
Connection via: IEEE 802.11 b/g/n for up to 72 Mbps networks
Encryption types: WEP and WPA2 Security Enterprise
Connection with Arduino on SPI port
Onboard CryptoAuthentication by ATMEL

(*) Please note that the Wifi Shield 101 is fully compatible with Arduino Zero board. The shield has a basic compatibility with Arduino Uno but is under heavy development, using it now could have some minor issues.
Source: Arduino WiFi Shield 101 – Arduino Store USA