3Drag/K8200 is the second best selling desktop 3D printer
By
Staff
on February 13, 2014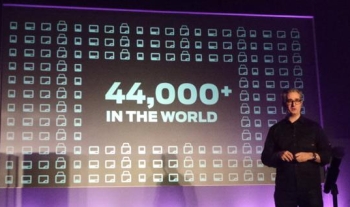 As you may probably figure out we recently attended CES in Las Vegas as basically everyone working In this industry.
Wandering around the different booths and shows is always interesting, CES remains probably the best consumer electronics show for the industry and everyone is basically there.
This year, during the Leaders in Technology Dinner event, Makerbot CEO Bre Pettis, declared that Makerbot sold more or less 44.000 desktop 3d printers, on a overall 3D desktop market that, according to his data, counted for 75-80 thousand pieces in 2013.
Having access to specific and (almost) undeniable data on the 3D printing market, especially in desktop 3D printing, is really difficult. To those that are used to read six months figured coming from Gartner or similar research firms on more structured and usual markets such as that, for example, of smartphones (where getting these figures is pretty much easier) this may seem strange but the reason is very easily explained.

First, this is still a super niche market, not that much interesting yet for research and analytics firms, so the availability of data still relates with company sources and this surely doesn't help in getting unbiased data. Secondly, this market is radically different from the vast majority of consumer (or prosumer) electronics industry.
As you may remember, even if today we have a plethora of proprietary products for sale, rapidly ramping up in price and meeting the professional printers half the way (at least that's what happened with Makerbot), the overall 3D desktop printing market spurred from an open source and DIY root, that of Rep Rap.
According to a recent report from 3D hubs, just trying to interpolate and interpretat the data a little bit,  one could say that RepRap derived products account today for almost one fourth of the market. The numbers may be much bigger, as we'll see in a while tough.
Indeed, in search for more data, we've found that Gartner has recently released a report that, according to Computer Weekly claimed "shipments of the consumer and enterprise level products – valued at up to $100,000 – would grow by 49% in 2013 to over 56,000" (the report was from late 2013
As you can see, just radically underestimating Makerbot data shared at CES.

Earlier this year, Wohlers Associates, a 3-D printing research firm, projected 2013 small printers (desktop) sales  at 70,000 ( up from just 355 in 2008, that's kinda impressive)
As you can see, this data is more consistent with those shared by Pettis at CES and may, at the end of the day, represent a credible number.
On another hand, behind the actual numbers, the high volatility in estimations and projections is  also due to a clarifying customer segment: who's going to buy a 3D printer after all?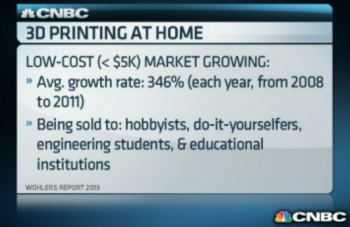 Recently, CNBC reported that Credit Suisse lead analyst Julian Mitchell "said that the market could double, to 140,000 units, by 2016 as consumer printers become more affordable and available" radically reviving some more conservative estimations following the consideration that civil engineers and architects worldwide could really represent a huge potential market for this kind of products.
Coming back to what I told you already, by the way, we need to consider that a lot of information may still be missing on the currently available features. Here's why.
As you should know, in 2013 we launched our completely open source printer, based on the rep rap platform, the 3Drag. Well, the printed ended up being pretty awesome and also allowed an interesting number of updates: first we upgraded the Sanguinololu control board, then we added autonomous printing features and lastly, very lately, we added the mod to transform the 3Drag in a CNC Miling Machine.
The demand for the 3Drag, was so high that we ended up with dealing a great partnership with Velleman, the belgian manufacturer of electronics and more, that helped us strip down 3Drag price reaching the very interesting price point of 565 €.
Well, and here's the news, this elastic, fully open source, powerful, precise and cheap 3D Desktop printer sold almost 10K pieces last year including both Open Electronics and Velleman sales.
This figures projects 3Drag/K8200 3D printer as the second most popular printer in 2013 and no one of the reports mentioned: see for example 3D hubs live reports here, with no  mention of our printer.
This probably means that 3D printing figures out today still don't get a perfect picture of the market!