The 5 Coolest Open Projects Seen at European Maker Faire
Maker Faire Rome was a blast. More than thirty thousands people visited the show and wandered around the stands. Since I was there to cover the "ReMake the World" conference in day one and the "Business of Making" event on day two, I was completely short in time availability but, at some point, I just stopped writing and I took my time to walk around the stands, visit some friends and encourage some great makers.
Especially, I was looking forward to see some great open source projects and, let me say, it was really not a problem to find them: the vast majority – and the most interesting – projects around were genuinely open and here is my selection. It's just a personal selection as there was really a huge number of great projects and people, so don't take it personally if you're not here.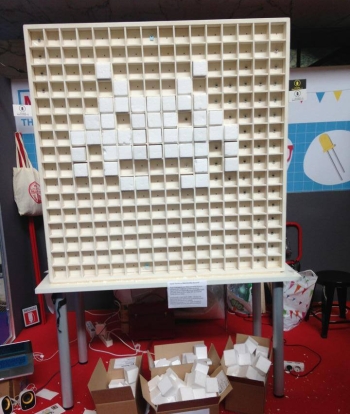 1) Macchinetta Sonora

Studio Macchinette, is a digital artists and interaction design studio from Rome. On their website, they dub themselves as:
"a playground where an Interaction Designer, a Graphic Designer and a Communication Specialist contaminate each other and each one specific skills through the creative potential of makers philosophy."
 The guys love to mix digital and analog technologies , plus hand made stuff to enhance people interactions with innovation "with a sense of irony". The project featured at the maker faire was called Macchinetta Sonora (italian for "Little Sound Machine") and it's basically an Arduino powered wood made physical tool to generate sound and visual landscapes.
It's made up of multiple cells, each one containing a light sensor: when you put a cube inside the cell, the sensor is switched off and it triggers a specific sound. The whole machine is based on Andrè Michelle's tonematrix library (http://tonematrix.audiotool.com/).

Here's a video on facebook to see the machine in action
https://www.facebook.com/photo.php?v=529263120489804
Instructions and coding to build your own Macchinetta Sonora will be available soon according to the team.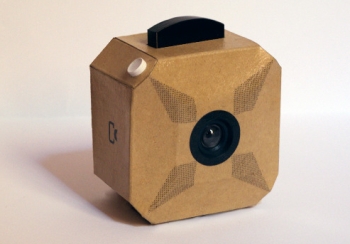 2) Craft Camera
I personally loved this french project. Craft Camera D.I.Y digital camera made of a cardboard case and an electronic system powered by Arduino and a Memory Card . All it's Open Source (Craft Camera is under Creative Commons license CC BY-NC-SA v3.0. http://craft-camera.com/OPEN-SOURCE) so that you can tweak it, fix it or build it yourself. The pictures you take are stored in a memory card.
Some cool pictures made with the camera are available here: http://craft-camera.com/BLOG-1
3) Fireworks Lantern
Fireworks Lantern is designed using PCB (Printed Circuit Boards) as the main constructive material: the object interacts with ambient sound (has been designed for the context of the fireworks during the Chinese new year): the LEDs react to the sound volume in a particular frequency range.
Yufan Wei Wang, Lego Future Lab engineer during the day, hacker and maker at night, told me that the project will be opensourced once stable (reach out to him and ask for the codes, I'm sure he will share, in case you want to try build the thing, see: http://portfolio.yufangised.com/Fireworks-Lantern)
As the designer says on the website: "This project is my first attempt to explore the creative usages of PCB to create objects, forms not only with the functional value but also the aesthetic and culture values. It brings together two Chinese traditional elements — the lantern and the fireworks, which give a the strong and interesting visual contrast between the tradition and the sense of technology."
That's exactly what hit me at the Maker Faire: as chinese culture is transforming, this project successfully gets the mixture of all these – modern and ancient – souls. Amazing.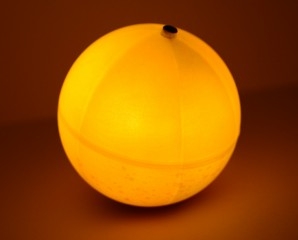 4) Narang
This project comes from Iuav University of Venice, Masters in Design (Visual and Multimedia Communication) students. It's basically an experimentation in Interaction Design to enhance personal interactions between prisoners and their friends and relatives
"Each cell in this Venetian low security prison contains several prisoners, and each prisoner has an interactive "orange", connected wirelessly to the Narang system. When a prisoner receives a message, from friend or stranger, not only his orange but all his cellmates' oranges glow with a particular sequence of moving light which suggests the message's meaning. This sharing reflects the inevitable closeness of life in a crowded cell. The behaviour of each orange can to some extent be controlled by gestures."
"This project investigates non-verbal, asymmetric communication. Narang aims to transform a cell into somewhere in which a prisoner can feel comfortable, and to create a sort of positive solidarity with his cell mates. An overcrowded and stuffy space becomes a familiar and collaborative place."
The super interesting thing is that the project is fully open: access all the information here http://www.interaction-venice.net/iuav12-13lab2/projects/narang/design-details/
5) OpenPipe.cc
Last but not least OpenPipe. This genuinely Open Source Hardware (http://openpipe.cc/development/)  project replicates a Galician BagPipe thanks to Arduino Technology. I had the chance to try it out at the Maker Faire and it was really nice: it was playful and sounded very nicely. See this video here:
Omg I love it!
These are just some of the best (open) projects I've seen at Rome's Maker Faire: please reach out if you feel like pointing out something we missed that deserves some more visibility!