Sergio Subrizi: how I built a MechMate CNC router on my own
Besides being a friend of Open Electronics, Sergio Subrizi is one of the few in the world who have had the experience of building the MechMate: a DIY, Open Source CNC Router. Judging from the beautiful machine that Sergio was able to build, his experience will be useful to all those who venture into this process. So we took the opportunity to ask Sergio to write a guest post, which we share with you today, to inspire you and help you in case you're thinking (like we are doing) to build one of these monsters.
The MechMate: that's the big CNC router every maker wants! At least, a machine that should be included in every makerspace and Fablab: such a machine can really help your lab and group to step up with the ambitions, especially when it comes to furniture and other wooden stuff.
This amazing machine was designed by a mechanical engineer in South Africa: Gerald Dorrington created this project in 2005 or so, as he wanted to help his son Sean who was finishing his studies and looking for job opportunities.
Gerald thought it might be a good business to create a service for cutting wood on demand:it was still an industry with little competition, there were many services for the cutting and bending of metal but nothing for the wood. So Dorrington started buying a pantograph/CNC milling machine that was debuting into the burgeoning world of American makers, the Shopbot.

At the beginning Gerald was not very happy with the performances of the machine (too much vibrations, too low flexibility and so on…). Furthermore, the size wasn't suited well to the material commonly available in his neighborhood (common profiles planes made of mdf with a size of 1830×3600). Because of this, he tried to ask if it was possible to have a machine with a width of 1850 mm. That machine would have allowed him to work with the wood profiles as a whole or at least by sectioning them in half. In the end, he got a negative response.
Meanwhile, the activity of Sean began to take off and Gerald began to be known and respected on various forums, such as CNCZone. Seeing others build their own CNC and having begun to fully understand the machine he purchased, Gerald began to modify it and improve it (makers mindset) and finally decided to throw in his "Mechmate" project.
Gerald was already an entrepreneur – he's indeed the creator of the largest producer of garbage compactor trucks in South Africa – as well as a trucks distributor from other manufacturers shipping in all Africa – therefore he was not new to ambitious projects.
That's how the project was born. In 2006, Gerald created Mechmate: he decided to share his project for free and openly on the Internet so to create a community forum that would assist those who want to try building it by their hands in a DIY fashion. Who, after building the machine, wanted to make a donation was very welcome.
Dorrington also had a fun and effective idea: respecting certain parameters (such as color and lettering) and by showing a working machine you would have received a serial number so to make your MechMate kinda "official".

The early days were tough enough in terms of community: just few people took over the challenge. The forum was still little known, even though it had a high reputation, but given the lack of interaction with the community in 2007 Gerald was almost tempted to give up (only 4 Mechmate replicated so far), but fortunately he held firm.
I discovered the project in mid 2009. At that time, the forum had grown a lot and, in the meantime, "official" Mechmates were already 43. Each one that built one told his own experience on the forum. Someone had also contributed ideas to simplify the construction and make it cheaper (for example, the Skate JR, on Mechmate # 4).
Here my adventure with Mechmate began. During those months, a friend of mine was looking for a land where you can put up a rudimentary shipyard to build a boat made ​​entirely of wood: a 12-meter sailing boat. I had just moved to live out of town and I had the space needed available: I was amused to see how such a thing was possible.
In the field of navigation, there is a large community of "makers" (here's one of the many sites of the Italian community). There is also a link to the specific case, the boat that we ended up building that 's called Helter Skelter (see here), my friend's boat.
The first pieces to build the boat (bulkheads and reinforcements) were cut with a CNC in a large joinery equipped with an industrial machine that costs 100k–150k euros. The result dazzled me and I thought, "think about how many things I could do with a machine like this!". At that time I just had a classic carpenter/DIY hobbyist miter saw for my small project … a machine I later replaced with a used combo purchased on eBay.
At the time I was working as a photographer but I felt that it was probably going to end in a dead end. That's why I started looking around for alternatives and found that to have a working CNC machine and offering a wood cutting service with a high-tech and modern solution that also would have been used by emerging makers and artisans seemed really interesting.
The power of the Internet done the rest: first I wondered how these ​​CNC machines were made and how much they would cost. Here in Italy we are the world's largest producers (with brands such as SCM, Bieffe, Morbidelli and so on) but budgets are challenging, and only for professionals with already active customers and established markets.
Digging more on the internet, I came to discover the Shopbot project. The costs in this case was about 20k–30k euro: not just companies, but maybe a group of friends could afford it, I thought. Even if the price was friendly enough it was still a bit challenging and so I came back again to the internet and, while searching for more, I stumbled upon forums with people discussing on how they actually built these machines on their own: wow! I thought that maybe I could have found the right place. It was a little delusional, later on, to discover that many of them had access to manufacturing shops in the surrounding area who had machine tools of all kinds. It was not my case.
After a while, reading on Italian forums dedicated to CNC (CNC Italy) I heard about the Mechmate project. The project had a good reputation, so I wanted to know more and I tried to be better informed. This project was very well documented and the machine had a nice and solid structure (I was a bit experienced at the time, after months of digging!). Also, and much more importantly, it did not need any special machinery and equipment to built. It was enough to know how to weld and, even if I didn't, I thought: "how's it possible that none of my friends knows how to do it?"
Without ever having seen a CNC machine physically, without having any experience with metal structures, however with a great passion and willingness to learn, I decided to start from scratch. In a few months I read pretty much all the forums and I started to sort out the pieces, in batches, depending on the budget I had available. I started with the most difficult thing, creating the rails, "if I can build the most difficult part is done," I thought.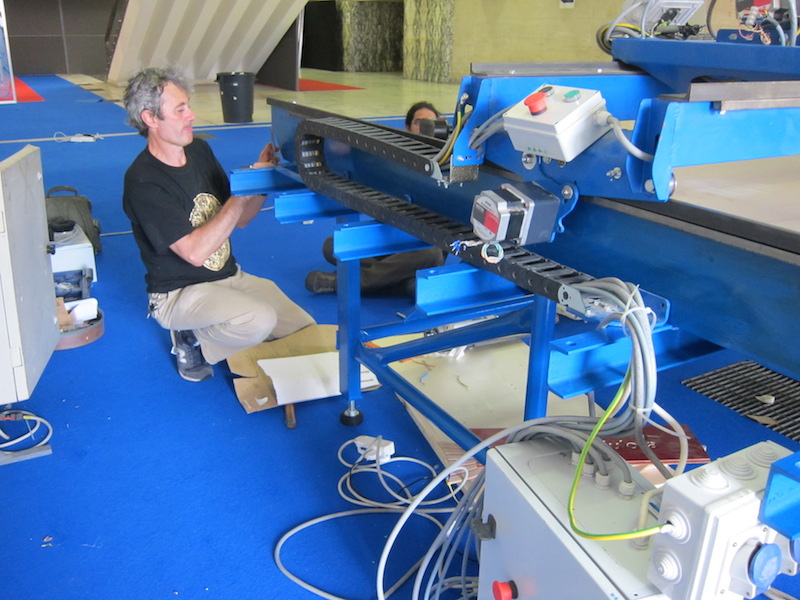 After a week and a bit of hard work rails were ready! The longest part was finding the suppliers of the various pieces, but slowly I found everything. At the time, in fact, did not know anyone who had any experience in the field: only towards the end of the project I met another geek who was doing a similar thing but it was a little behind me in the development. With his support together we ordered some electronic components and we proceeded with the project.
Shortly before the end of 2010, the machine was finished and it worked perfectly … almost: indeed, the machine worked great but I was not skilled to use it! I know nothing on how to setup, tune and operate!
So, I spent three months of hell trying to get into my head the various concepts of CAD, CAM and CNC: I was a photoshop black belt, but with CAD and CAM I was precisely at newbie level. In short, and paradoxically, building the machine wasn't actually difficult, but learning how to use it … a real nightmare!
Shortly before 2013 Maker Faire I finally found an agreement with a local carpenter and the machine went out of my garage: I went to use the machine in a situation that could help to exploit its potential to the fullest, and I discovered that I, on my own, I was considerably forwards respect to others: much more than I thought due to the lack of benchmarks. And you know, funnily enough, in a makers meetup in Rome, just before the Maker Faire, the team told me: "why don't you bring it to the Faire!" and I said: "guys, you must be crazy, I just moved that here and it's 700 kilos!". As you may know if you were at Rome's Maker Faire last year, you'll know that at the end they convinced me.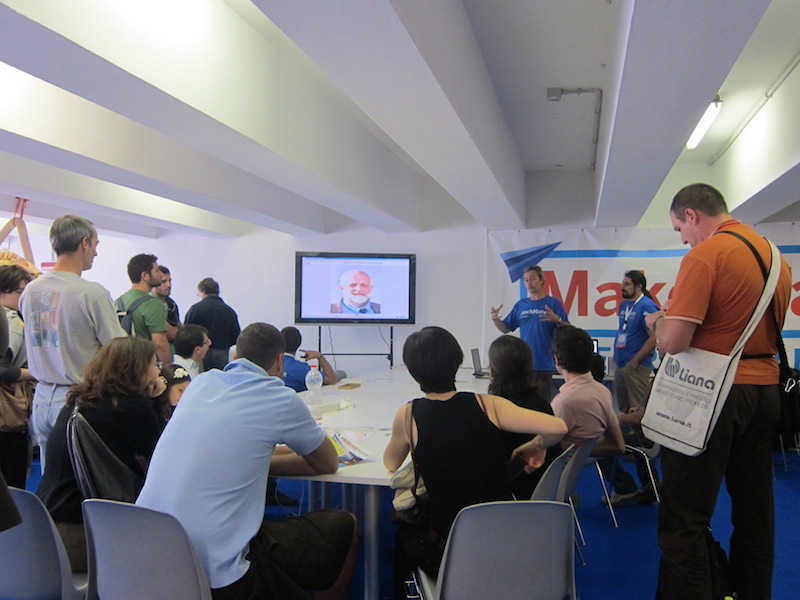 Many people who are about to begin construction are asking me for an advice to the community. However, I often give the same answer: read the forum, with the contributions of those who built the machine already, shared their experience and studied the project in deep. After checking the manuals and instructions, if you still have doubts (you will), ask on the forum (an attitude that works pretty well with all the open source projects).
But also, know that there's no real rule of thumb, other than curiosity.
I tried to put together four key tips:
Study the project well and deeply and not be in a hurry (I did a few errors due to trying to be too fast: fast is not a good friend when trying to build a MechMate, I myself I did few errors due to not carefully reading the project suggestions sometimes, before starting to work on some module)
Post on the forum your building experience, you will be helped and help others.
Be low profile: the secret of my success in building the machine, was having no experience of mechanics, welding, cnc, it was my humble and curious approach. I followed the project trying to make the same choices and use the most popular materials on the forum, in case of problems I would have been had helped more easily (in fact on the forum there is already a response for everything, now the official Mechmates are over 120).
Try to know first the thing you want to create and size the machine for your needs: in my opinion if you have the right space 3,20 x1,85 m is the perfect size to have a "productive" machine (more widespread plywood panels are on average 3.15 x 1,83).
To conclude: to build such a machine is much easier than you think, having a good design, while learning how to use it is less easy than you think. There are so many things you can do!
Now… just start! From where? Logically, here!