OTTO, the Open Source Music Production Box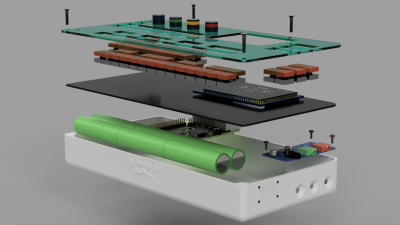 The portable synthesiser workstation created by Topisani started as a clone of the well-known Teenage Engineering OP-1. However over time Topisani has pushed the music box in a new direction and is currently designing a new user interface while still maintaining the small form factor inspiration of the OP-1.
The heart of the OTTO is a Raspberry Pi 3. The all-important audio interface is a Fe-Pi Audio Z V2, though a USB interface can be used. OTTO is equipped with small 320×200 LCD display, 48 switches and 4 rotary encoders controlled by a pair of Arduino pro micros which pass the data on to the Raspberry Pi.
The user interface and software is currently being constructed from the ground up using C++17 with the synth engines, audio effects, and other DSP software is written in Faust.
Further information can be found at hackaday.com.