OleaSense OS-3010 IoT Vitals Sensor Platform for Your Pi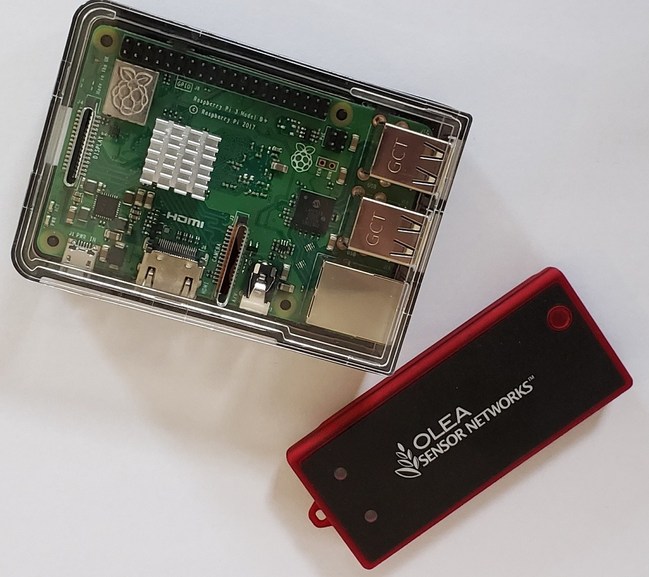 Olea Sensor Networks makes a variety of sensors and sensor boards for healthcare, industrial safety, and in-vehicle use. It released its OS-3010 wireless healthcare sensor board earlier this year for Windows and has now updated it to support Linux and Android platforms, with a Raspbian version of its OleaSense software designed to work on the Raspberry Pi. It can operate up to four OS-3010 sensors at the same time and will allow Olea to serve more IoT-based solutions developers.
The OS 3010 works wirelessly so no physical contact is required. It accurately collects and processes heart and respiration data, extracting vital sign statistics and transmitted them via Bluetooth to the cloud. It is very small, weighing about 1 ounce and may be embedded in or under most materials without obstructing operation or precision.
The 84 x 35 x 8.7mm, 29-gram OS-3010 is fully enclosed and designed to fit in the pocket or badge-holder of a medical professional or patient. It can also be attached to a patient's bed for continuous monitoring.
The OS-3010 could act as an affordable solution for improving rural healthcare in developing countries, says Olea. One can imagine a custom solution for field healthcare worker that combines the OS-310 with a Raspberry Pi and touchscreen for mobile healthcare.

The OleaSense Platform software uses ML algorithms to analyze and aggregate sensor data, and present actionable data about a patient's condition in real-time. The software can create an advanced statistical index that has the capability to predict declining health in a monitored patient.
The OleaSense software is made available via a dashboard visualization GUI called the QSN Quadcorder. Available for Linux, Android, and Windows, the software summarizes and plots data processed by Olea sensors.
Further information are available on the Olea Sensor Networks website.