Maker Faire Rome – "The Business Of Making" Recap
Missed Day1 "How To ReMake the World" Conference? Read our First Day Recap!
Despite the second day of the Rome Maker Faire was mainly the day of Schools (incredible to see the huge number of boys and girls wandering around the stands), afternoon's faire program featured the Tech Garage event, where a huge number of startups pitched in front of the conference crowd.
The "business of making" topic was introduced by a talk given by Dale Dougherty. As always Dougherty stressed the point that "Everybody is a maker" (you know the famous TED talk isn't it?) anybody today can design and develop a product. Making is digital, physical and social at the same time: we do things then we take pictures and we share it. Makers pass through three phases: Zero to maker (learning that you can make) – Maker To Maker (when you attend social events and discover the community) – Maker to Market (when you actually realize that you can create and sell products).
Dale also noted that Making is also a great source of innovation for businesses, as demonstrated by Intel, getting more and more interested with this domain.
Then Dale went through drivers and enablers of this business revolution – if you're a reader of Open Electronics you probably know that we love talking about it – Dale showed interesting figures and numbers showing how both the number of hardware startups on Angel List and funding on kickstarter basically increased by an order of magnitude in the last two years.

Dale closed his speech, calling for ventures that are ambitious enough to change the world: to be a business maker you must put all your energy into this, so you would better think about something not trivial, something that matters (his talk recalled a lot to me of Tim O'Reilly famous "work on stuff that matters".
After Dale, we had Stefano Micelli on stage: Economy Professor very famous for having spotted the makers trend (he was the author of "Futuro Artigiano" – Artisanal Future a very famous book on making and craftsmanship). Micelli's talk was mostly about the new dimensions of innovation, increasingly switching from the corporation's R&D to the hands of the users, the object hacker.
Interestingly, he focused on Italy, that according to him is very much a potential maker cradle and has a culture that is very in line with the makers revolution and its values: no standardization but variety, no patenting but customization, no big size but small social interaction, not advertising but reputation.
A very interesting final consideration from Micelli was about distribution: he called for more factory shops where you can actually make your stuff not ony buy your stuff.

We also had the chance to listen to Open Electronics friend Mathilde Berchon – editor of Making Society. She explained the attendees that if hardware is hot, open hardware is even hotter. In a recent talk at OHSummit that she basically repeated and extended in Rome she gave a clearer picture of the people behind open hardware companies: the entrepreneurs behind the 100 recognized open hardware startups
She pictured some interesting stats about the demographics of Hardware Startups and entrepreneurs. Re the challenges of building your Open hardware Startup, a focus was dedicated to the need to build a community and, obviously, to the most difficult part, approaching manufacturing and scaling. Tough stuff. According to Mathilde another key challenge (ask Makerbot) is that of staying open when scaling up and going mainstream (didn't happen so often up to now to be honest).
Also she pointed out that, though everybody is focusing on Electronics and digital fabrication, market opportunities are many: this means that there's a huge potetnial yet to be explored.
The very last talk (or better, chat on stage) was with the amazing Quin Etnyre a 12 Years old guy that teaches Arduino and already has a company (yes, believe me) and sells products on Sparkfun and other places. Particularly nice was to see him mentioning how he used to Maker Faires to make business partnerships and then showing pictures with Banzi and Sparkfun's Nathan Seidle. So nice guy!
Quin was invited in Rome to tell his amazing story and inspire: even if actually, there were no more teenager around at that point, I think he should really be inspiring for all the attendees. At least he and the other teens that we saw on stage (Jack Andraka, Joey Hudy) during these days should really be the emblems of the "curious imperative" that Seth Godin once mentioned on his blog. Click on links, Google stuff you don't know, read, learn, create.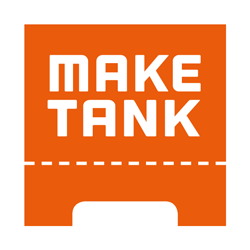 Last mention should go to the startup that won the Tech Garage event: among a bunch of friends of mine such as Andrea from Slowd and Antonio from Paraimpu, and several more the winner was MakeTank, a new startup born in Tuscany (home of crafters and artists and one of the hot spots of Italian makers): Laura De Benedetto, a active leader of Italian Maker community and MakeTank co-founder, got a arm sized Maker Robot , crafted ad hoc overnight by the Roland DG Team that was  present at the Faire with a kinda huge number of incredible fabrication machines.
Tomorrow and Sunday we'll be finally able to wander a little more around the faire stands and talk with people, discuss great projects and interview some folks to finally give you a glance of what the maker brought to the Faire! Stay Super Tuned!
Follow me on @OpenElectronics for next day livetweeting and stay tuned for next updates on the exhibition day on Saturday!
Follow me on twitter @meedabyte