Impact Hacking Made Sexy
In the last few years we saw an increasing awareness about open hardware (OH) projects, now starting to have an impact on the startup community and academia – as more and more projects under CC licenses try to involve the crowd in improving designs and applications – and even mainstream media now finally starting to cover the thing. For sure, an interesting event for the development of the open hardware community was the Open Hardware Summit 2013, where you could listen to amazing makers, entrepreneurs and hippy artists talking about the challenges and future potential of open-source technologies. Some super important points emerged from the crowd, think of proper hardware documentation, business models, collaboration and translation tools.
Unfortunately we heard almost nothing focusing on the topic of functional impact technologies. Being functional is one of the problems around the whole OH boom these days: lacking documentation and exploration of the real impact of technologies, sometimes addressing some of the biggest issues of local communities: take for example sanitation, alternative energy, clean water, mobility and more of these key topics.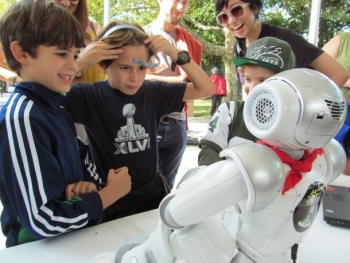 To give you a better example let's look at Maker Faire NYC: it was visited by around 70 000 people that were prompted with a showcase of, mostly, projects focused on topics like interactive art, playing around the house and hacking electronics. About 50% or more of those funny moving – playing things are not designed for a daily use by average people or, in case, their impact target is really minimal.

Everyone is in love with the so-called maker movement and I would never underestimate the power of education and play but, while we are wondering about how to blink LEDs, we could explore and build some functional technologies that help people improve their health, farming practices, energy consumption and other vital areas. The technology and knowledge is over there we just need some pioneers to show that it's sexy and interesting to hack social challenges.
This is the motivation behind www.dreamups.org: having a clear focus on impact technologies and open tools for empowering local communites to create and have access to hardware innovations.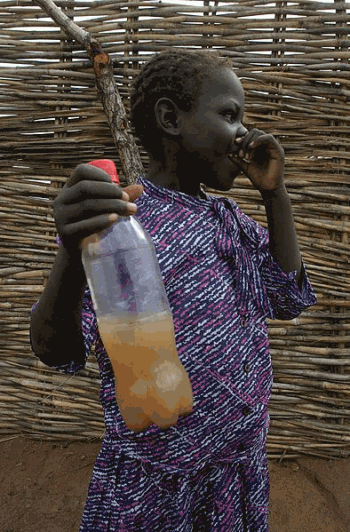 © Pierre Holtz – UNICEF, hdptcar from Bangui, Central African Republic
We started as a small team of entrepreneurs, research and tech guys with a wish to bring together all positive impact hardware technologies and empower people to use them for hacking complex life challenges as they face it in their community or family: as we couldn't find any similar model on the web we decided to create one and share it as an open-source project (in beta at the moment). You may say that Instructables or Dozuki are already available: that's right and we are grateful for their work but there are some common challenges shared by the community and not yet solved.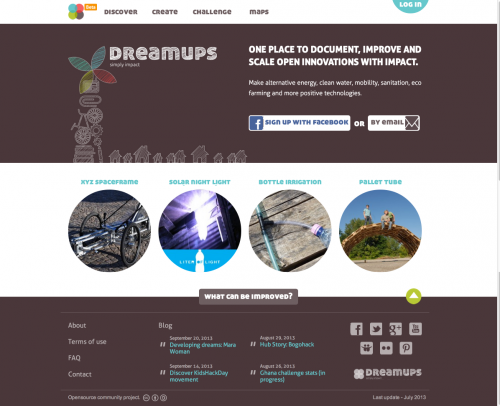 Functionality and collaborative improvements
There are just a few fully functional, well documented projects that you can built from only reading a wiki or dedicated blog page. Probably, Open Source Ecology is leading this chapter. Additionally there is no way to contribute to these projects with your own designs, translations or "fork" them into new projects. Just think of how big is the waste if we can't build on other people's work. Any solution that can bring all open hardware projects into one database and enable collaboration, would help humanity to solve many complex problems and empower individuals to unleash their creativity. There is a huge room for improvements, software solutions and community co-creations.
Language barriers
Most projects in OH community are coming from english speaking peers with few exception like these guys. Even if we believe that having one universal language for documentation and international collaboration would help us scale and improve faster all existing knowledge, we see that many non-english speaking innovators don't get through, and their projects stay local and small. Models like Wikipedia and TED Open Translation make us think we can bring the crowd 'virus' to open hardware translation as well.
Open source made sexy
I don't know who set this trend in the past but when we talk about open source projects, also software, people tend to think of it as super cheap and ugly from the very beginning. For sure privacy and freedom are good win points but often price is the king reason to go for something open-source. With new collaboration and crowdsourced tools open-source can and should be superior both in quality and design. When extraordinary people from all over the world are working on one product you don't have any other choice but create superior quality code, design and customer experience.
One more way to make OH sexy is to show real time data, let's say infographics on what happens when people build and use innovative local projects to solve community challenges. Just imagine you could have such open data at any time and see how much water was purified, how much alternative energy created, how many sustainable houses built, health index improved and many more. It's just mind blowing and super sexy.
Empowerment and valuable connections
How can people work together and connect to each other in an open way? When we say open way we mean telling your real story, what you want to build in the future and what you can contribute with. Nowadays you see lots of 007agent, anonymous3D and all types of secret "contributors" who talk a lot but do little when it comes to getting a project to life and scaling it up. You see, open hardware means real life collaboration, getting your ass to a garage or makerspace and put your hands to work. We would love to see better ways to connect to people in an authentic way and get stuff done in real world.
What's next ?
The points shared above are general observations from a one year research and hundreds of one-to-one discussions with engineers, hackers, tech students but also simple people who just want access to knowledge on how to improve their life. The 'impact hacking' area is super huge and there is place for many projects being it software, education programs or hardware inventions. We would love to see more people working on this topic and create value for problems worth solving. There is no excuse to look at this numbers and continue to play makey makey games all day long, as Voltaire first said "with great power comes great responsibility" and we have the privilege to hold the education power.
Simply impact ; )