Get in touch with your Things – Souliss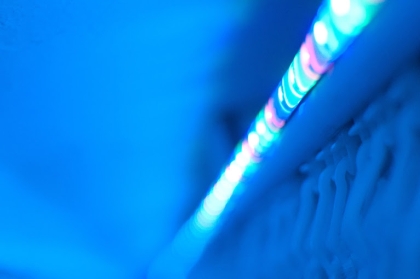 Some months ago we came across the RGB Shield from Open Electronics and our first thought was to use it building some cool stuff with our framework, Souliss.
The future of lights goes through LEDs because compared to standard lights they're tiny, easy to control and consume low power. But what we were missing until now was a powerful yet straightforward hardware controller for everyone willing to use LEDs and strips on Arduino compatible boards, especially if planning to use many of them. Also, You cannot spend your time pointing an IR remote to every corner, looking for the IR receivers that you may have placed around your home; using a lot of remote controllers is messy, too. Finally, we think that an Android tablet or smartphone is the best remote controller available, as it is always with you; also, they're becoming pretty cheap.
Deploying a simple Souliss environment is easy, an Arduino with an Ethernet Shield and a RGB Shield will do, out of an LED Strip and a 12V power supply. Then download Souliss and load ready-to-use sketches, finally install SoulissApp from Google Play market on your device. You are now ready to control lights, colours and brightnesses manually or play music to let your LEDs follow the rhythm.

The setup is build over two wireless nodes, bridged to Ethernet with a third one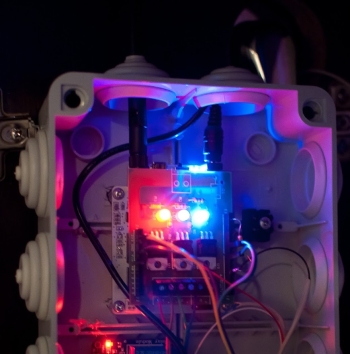 Souliss is a framework for the IoT and smart home solutions, you can have many nodes around the home with their strips connected altogether and get all of them in your smartphone directly, even controlling everything at same time. Basically, Souliss offers an infrastructure to build your automations over objects in a few tens lines of code; it includes all that you need starting from the low level communication protocol to the Android application, including drivers for the media controller (Ethernet, Wireless 2.4 GHz or WiFi) and routing/bridging facilities.
Colours weren't funny enough, so we let them to be controlled from the music that your smartphone imay be playing, too. Anyway, LEDs are just one example; anything that can be remotely controlled may become a Thing, interacting with other nodes and devices that runs over Souliss.
Got excited about it? Get the library to be loaded on your Arduino board and the Android application, have a look to our wiki and to the introduction to the examples and you will be ready to go, is open source. The video in this post is based on ssOpenElectronics_ex01_RGBStrip.inoavailable in the sketch folder of the Soulis library, underhardware → OpenElectronics.

Once your stuff is built, please share it and let people know about Souliss. Follow us at@soulissteamor on G+.