Adafruit Unveiled the 1.8″ Color TFT Shield v2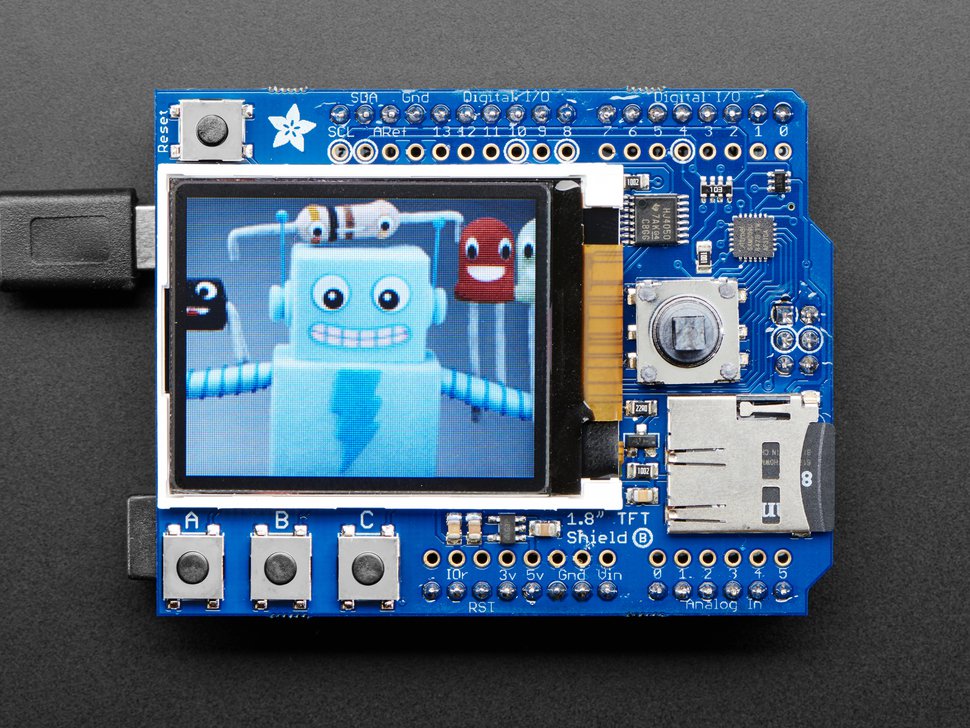 Adafruit has unveiled a new second-generation version of its popular 1.8 inch Colour TFT display which is now being combined with an Arduino shield fitted with a microSD card slot and a 5-way joystick navigation switch and three selection buttons.
New! We've updated this shield to be 'Arduino R3' format compatible so you can now use it with any and all Arduinos or Metros – including the Metro M0 or M4, Arduino Mega, Zero, etc. We also use Adafruit seesaw for the TFT backlight, TFT reset, and button inputs – you can query the buttons and joystick over I2C now, so only 2 pins are needed to communicate with all 8 switches.
They also placed a microSD card holder (so you can easily load full color bitmaps from a FAT16/FAT32 formatted microSD card), a 5-way navigation switch (left, right, up, down, select) and three tactile buttons marked A BC. The microSD card is not included.
If you just want to display text, shapes, lines, pixels, etc the shield uses the SPI pins (SCK/MOSI/MISO), I2C pins (SDA & SCL) and digital #8. For the microSD card, you'll also give up Digital #4. This shield works with any Arduino UNO and compatibles, Mega, Zero, etc.
The Adafruit 1.8″ Color TFT Shield w/microSD and Joystick version 2 is now available to purchase priced at $35.