5 best starter kits to master electronics and have fun!
Do you want to start practicing DIY electronics and embedded computing, but you find annoying to understand what you need to begin? Do you get crazy when a stupid missing cable or component blocks you from testing your last prototype?
Here are 5 best starter kit to start immediately working on electronics and computing
Raspberry Pi 3 starter kit
An exclusive Starter Kit from CanaKit that includes the fastest model of the Raspberry Pi family – The Raspberry Pi 3 Model B and everything you need to get up and running within minutes in the exciting world of Raspberry Pi!
The included CanaKit 2.5A Micro USB power supply (UL Listed) is specially designed and tested for the Raspberry Pi 3. This power supply incorporates a noise filter to provide the highest stability.
Kit Includes:
Raspberry Pi 3 (RPi3) Model B Quad-Core 1.2 GHz 1 GB RAM
On-board WiFi and Bluetooth Connectivity
32 GB MicroSD Card (Class 10) – Raspberry Pi Recommended MicroSD Card with NOOBS
CanaKit 2.5A Micro USB Power Supply with Noise Filter (UL Listed) specially designed for the Raspberry Pi 3 (5-foot cable)
High Quality Raspberry Pi 3 Case
Premium Quality HDMI Cable with CEC support (6-foot cable)
2 x Heat Sinks
GPIO Quick Reference Card
CanaKit Full Color Quick-Start Guide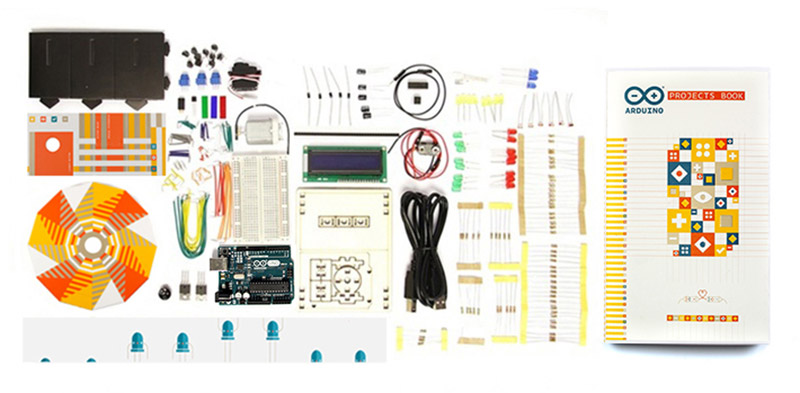 The Starter Kit walks you through the basics of using the Arduino in a hands-on way. You'll learn through building several creative projects. The kit includes a selection of the most common and useful electronic components with a book of 15 projects. Starting the basics of electronics, to more complex projects, the kit will help you control the physical world with sensor and actuators.
The Starter Kit includes:
1 Projects Book (170 pages), 1 Arduino / Genuino Uno, 1 USB cable, 1 Breadboard 400 points, 70Solid core jumper wires, 1 Easy-to-assemble wooden base, 1 9v battery snap, 1 Stranded jumper wires (black), 1 Stranded jumper wires (red), 6 Photoresistor [VT90N2 LDR], 3 Potentiometer 10kOhms, 10 Pushbuttons, 1 Temperature sensor [TMP36], 1 Tilt sensor, 1 alphanumeric LCD (16×2 characters), 1 LED (bright white), 1 LED (RGB), 8 LEDs (red), 8 LEDs (green), 8 LEDs (yellow), 3 LEDs (blue), 1 Small DC motor 6/9V, 1 Small servo motor, 1 Piezo capsule [PKM17EPP-4001-B0], 1 H-bridge motor driver [L293D], 1 Optocouplers [4N35], 2 Mosfet transistors [IRF520], 5 Capacitors 100uF, 5 Diodes [1N4007], 3 Transparent gels (red, green, blue), 1 Male pins strip (40×1), 20 Resistors 220 Ohms, 5 Resistors 560 Ohms, 5 Resistors 1 kOhms, 5 Resistors 4.7 kOhms, 20 Resistors 10 kOhms, 5 Resistors 1 MOhms, 5 Resistors 10 MOhms
If you've ever thought about making a poster play your favourite song, giving objects the ability to speak, or creating hidden sensors in your house, then the Touch Board Starter Kit is for you.

Each kit contains a Touch Board, Electric Paint, and everything you need to start transforming the world around you. There is no need for programming expertise! The Touch Board Starter Kit comes ready to plug and play, so you can create any of its three featured projects right out of the box. The Guidebook will take you through step-by-step instructions, and is packed with ideas, resources, and inspiration for you to build on.
Includes:
1 x Touch Board
1 x Electric Paint 10ml Tube
1 x Electric Paint 50ml Jar
1 x Guidebook
1 x MicroSD Card
1 x MicroSD Card Reader
1 x Micro USB Cable
1 x Mini Speaker
12 x Alligator Clips (colours vary)
1 x House Stencil
1 x Stencil Brush
12 x Sticky Tabs
3 x Velcro Stickers
2 x Paper Cutouts
This kit is a full package of all general required functional modules for someone who intend to do some real project or make a prototype. It contains sensors(mainly), switching-function modules, servo motors, LED strip and a speaker. The most amazing part of this kit is the Wio Link development board which can be utilized for various devices: without a bit programming skill required. All the actions you want your modules performed and the flashing-code operation to Wio Link could be completed with taps in a mobile app. And you can send instructions to your devices over the internet at anywhere. So Wio Link will be a perfect utility to making things around smarter for everyone.
| Includes: | Quantity |
| --- | --- |
| Grove – Button | 1PCS |
| Grove – Relay | 1PCS |
| Grove – Moisture Sensor | 1PCS |
| Grove – Temp&Humi Sensor | 1PCS |
| Grove – Digital Light Sensor | 1PCS |
| Grove – Rotary Angle Sensor | 1PCS |
| Grove – Protoshield | 1PCS |
| Grove – Magnetic Switch | 1PCS |
| Grove – 3-Axis Digital Accelerometer(±1.5g) | 1PCS |
| Grove – IR Distance Interrupt | 1PCS |
| Grove – Barometer Sensor (BMP180) | 1PCS |
| Grove – Air quality sensor v1.3 | 1PCS |
| Grove – Gesture | 1PCS |
| Grove – I2C Hub | 1PCS |
| Grove – Speaker | 1PCS |
| Grove – WS2812 Waterproof LED Strip – 30 LEDs 1 meter | 1PCS |
| Micro USB Cable – 48cm | 2PCS |
| Grove – Servo | 1PCS |
| Wio Link | 1PCS |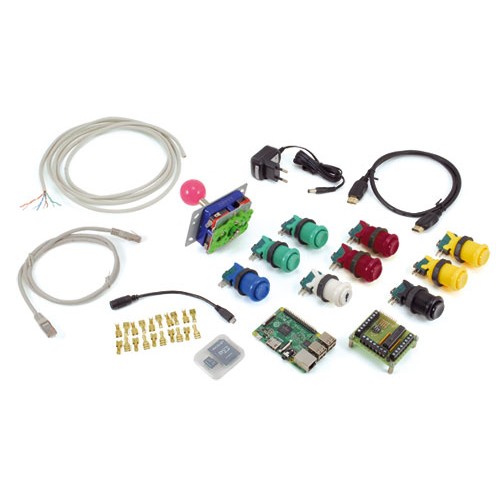 This kit allows you to build a station Arcade games – for one player – such as those found in the '80s and' 90s, in bars and arcades. The system is based on the latest version of Raspberry Pi 2 and uses it as RetroPie 3.5 software, derived from Debian Jessie, with which you can emulate different types of consoles, including Nintendo, Game Boy, MAME, Sega Master System, Amiga, Commodore, etc. The kit includes all the parts necessary to build the station Games Arcade except the monitor. Raspberry Pi has HDMI video output so you must have a monitor with an HDMI or HDMI / VGA adapter.
The single-player kit includes
Raspberry Pi Type B 2, 1 piece
Arcade Amaranth button, 2 pieces
Arcade Button yellow, 2 pieces
Button Green Arcade, 2 pieces
Blue Arcade Button, 1 piece
White Arcade button with symbol 1 player, 1 piece
Black Arcade Button, 1 piece
Arcade joystick 4-axis knob pink, 1 piece
Shield RetroPie for Raspberry Pi, 1 piece
Female faston 5 mm, 20 pieces
Cable 8 cores of 2.5 meters for the buttons cable – 1 piece
Micro Secure Digital 8GB with adapter, 1 piece
HDMI cable 0.7 m, 1 piece
DC adapter cable to plug in the micro USB, 1 piece
Switching power supply 5 V – 2 A, 1 piece
FTP cable 1 meter CAT5e 2xRJ45, 1 piece