Maker Faire Bay Area 2015, Interview with Massimo Banzi: Genuino and the future of Arduino
During the last Maker Faire Bay Area held in San Francisco on May, 15th-17th, we had the incredible chance to meet Mr. Massimo Banzi in flesh and bones. Our CEO Arsenio Spadoni seized the opportunity and interview him, giving Massimo a further chance to explain the complex situation Arduino.cc is facing in the legal dispute with his former partner and manufacturer and, that's the beef, unveiling some interesting details on Arduino.cc ongoing partnerships!
 [Arsenio] We have here, at our booth, Massimo Banzi. It has been such a long time since the announcement about the legal issue between Arduino.cc and its former partner, we are really eager to hearing news about future developments of Arduino and its community.
Massimo, what has been decided and which impact must we expect on Arduino's future?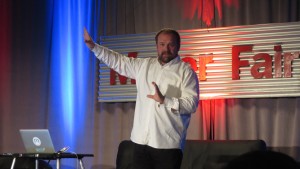 [Massimo] Yesterday we have made that announcement (the new brand Genuino, manufactured by Adafruit, translator's note) to show what we are going to do in the next months. Arduino's community knows that we are facing serious legal issues for a long time now and we are trying to cope with. By the way, since we can't allow lawyers to plan our lives, we must live on! It is really hard to explain the whole legal dispute, I know the truth and I'm sure that everyone will know it sooner or later despite of the long time for justice. In the meantime, we have to move on starting from the firm points. In USA we own the 100% of "Arduino" trademark, so the partnership with Adafruit we have signed yesterday is an important strategy for North American market. Adafruit will manufacture boards for this market and I'm very positive about it. It is a company 100% owned by a woman who never accepted any venture capital, she created and managed the company by herself from the beginning. We are close friends for a long time, but just now we could reach a satisfactory agreement (not based only on friendship, bad approach when building a company up!!).

This is so good for the American market, while the situation in Europe and other markets is not clear yet. Depending on the specific market, and again because of the ongoing legal dispute, we can sell our products with the brand Arduino in some country and we can't in others. So, to make an easier life to all those who want to purchase the "original Arduino", i.e. the board and the community designed by me and the startup team, we have chosen to create the new brand "Genuino". Through this brand, we will both manufacture and sell the original Arduino.cc boards in every country outside the US.
There is also one more point I care much about. I'm receiving many emails from friends, supporters and community members saying: "So, Massimo, you're moving the board production outside Italy, this is unfair!". Well, unfortunately it's not me that is moving the production outside Italy, it is the Italian manufacturing that is blocking me to factory in my Country. Therefore, I have to find a solution for that!
I was scared by the possible community reaction and understanding of my decisions. But yesterday, seeing how many people were joining the conference, the room was stuffed like a turkey… It has been really touching for me. So much time spent thinking if I was doing the right thing, if the community would still support me and then, during my keynote, hearing the people backing me! Now I know I'm doing the right thing and, the most important, the community is with us.
[Arsenio] What about the time to market? There is a serious problem about product delivery outside US!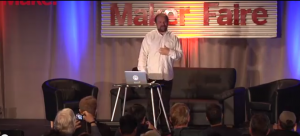 [Massimo] Boards made in US will be sold on July, we will spread the exact date in the next two weeks. The manufacturing has already begun, now we are testing the first pre-production batch. Anyway, Adafruit has been making electronics for 10 years, so we are definitely confident. We are just splitting hairs, I know! In the very next weeks we will make a separate announcement about Genuino availability, because I would keep on manufacturing a big part in Italy. We are in touch with many Italian manufacturers but up-to-day we have adopted a low profile, mainly to avoid them any legal consequence or intimidation due to the controversy we are dealing with. Unfortunately, intimidation already happened to some of our previous manufacturing partners!

[Arsenio] So, to put everything in a nutshell, Arduino trademark will be kept inside the US and made by Adafruit, while we'll see the new brand "Genuino" worldwide, manufactured by a selected group of manufacturers in Italy and other Countries too.
[Massimo] Yes, then the market will drive us. Any market has its own requests, for instance we understood that the Chinese market has a whole set of singularities… In US, we got a strong request to sell boards made there, since for the educational market a product made inside the Country is easier to be accepted and spread. In Europe, we can manufacture boards in Italy and according to the product and the geographical agreements, we will have a set of different partners.
[Arsenio] On this point of view, what you can tell us about the agreements done with Samsung, Microsoft, Intel? Will there be more agreements like those in the very near future?
[Massimo] (laughing…) No comment please! I mean, these agreements are usually signed and kept low profile for a few months before they could be declared to the community. What I can say is that presently we have partnered a good and wide network of companies interested on running Arduino platform and codebase on their hardware. Only to manage these partnership, when names on the plate are Intel, Samsung and Microsoft is… hard and time consuming! For this, we will soon hire new people on our US offices, to manage the whole situation.
[Arsenio] What about new products R&D? Where will it be?
[Massimo] As usually, R&D is distributed among our offices worldwide. Educational products have been traditionally developed in Sweden, where a cofounder lives. Most products are developed in Turin and they will go on there. Now we have a low cost product family designed in India. India is another case of "forced local manufacturing", since they didn't like purchasing an expensive product made abroad, they would have preferred a cheaper product made in China. An "expensive" product made in India would have been appreciated instead, so we tried that way and it's working fine.
In any case, the only one who designed the product end-to-end is Arduino.cc: this won't be changing. The only pleasant news is that we hadn't the factory before, while now we have. That's it!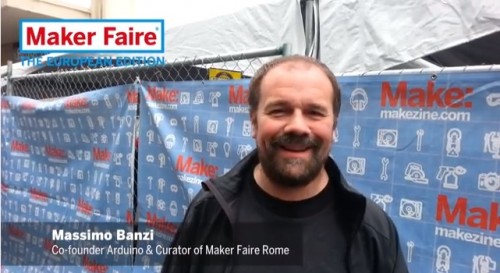 [Arsenio] Concluding, would you like to tell anything to Italian community?
[Massimo] What can I say? I do hope that the community understood what happened to Arduino.cc and the strong legal constraints I have to bend until the whole issue will be dispelled! I cannot choose everything; sometimes the decisions are taken due to legal issues, situations, other things. It's out of doubt that I will keep the manufacturing in Italy as much as I can, I only have to overtake the constraints in a smart way!
Further info directly on Arduino.cc blog, or stay tuned here at open-electronics.org. We will follow the issue closely!