New electronic components will change lives in 2014
These recent breakthroughs in electrical component technology are likely to have a significant impact on the electronics industry – and on people's everyday lives.
Graphene – Latest News for Revolutionary Material
Your'e probably aware of the superstar conductor of the future, Graphene: "A wonder material that is the world's thinnest, strongest and most conductive material with the potential to revolutionise diverse applications; from smartphones and ultrafast broadband to drug delivery and computer chips". 

… here are some industry breakthroughs that may not yet be on your radar:
Lithium-ion batteries could be enhanced by a new electrode that uses graphene-coated vanadium oxide ribbons. The ribbons are thousands of times thinner than a sheet of paper but have the potential to accelerate development of major applications such as electric cars. Cathodes built into half-cells for testing at Rice University, Texas, fully charged and discharged in 20 seconds and retained more than 90 percent of their initial capacity after more than 1,000 cycles. 
Grapheme Silicon Additive Extends Battery Life
…and in similar news,a new graphene-silicon additive for lithium-ion batteries has just been released for commercial sale. The graphene nanoplatelets increase lithium-ion battery life by four times the current standard and will substantially extend battery lifespan. The breakthrough will likely lead to portable electronic devices becoming lighter and smaller, and should prove useful in the continuing developments in the electric vehicle industry. 
Stay Tuned for Graphene Speakers – The Future of Audio?
 A graphene loudspeaker has been developed with an excellent frequency response across the entire audio frequency range (20 Hz–20 kHz) and could one day outperform current commercial speakers. According to Alex Zettl of the University of California, Berkeley where the technology is being researched: "Graphene is an exceptionally strong material means that it can be used to make very large, extremely thin film membranes that efficiently generate sound".
Supercharged Bacteria!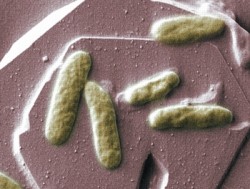 A recent energy harvesting discovery could use marine bacteria to generate electricity.
An electrical current can be generated when proteins on the surface of the bacteria Shewanella oneidensis come into contact with a mineral surface. Findings of the research, conducted at the University of East Anglia, indicate that bacteria can be 'tethered' to electrodes by lying directly on a metal or mineral surface to create a form of biobattery. The team synthesised a version of the bacteria for use during the experiments. 
Lead researcher Dr Tom Clarke from UEA's School of Biological Sciences, said: "These bacteria show great potential as microbial fuel cells, where electricity can be generated from the breakdown of domestic or agricultural waste products". 
"Another possibility is to use these bacteria as miniature factories on the surface of an electrode, where chemicals reactions take place inside the cell using electrical power supplied by the electrode through these proteins."
Next–Gen Medical Electronic Devices
The future is looking healthy thanks to a number of recent breakthroughs in the medical electronics industry… 
Introducing ZAO: A Multi-Sensor Device To Monitor Vital Signs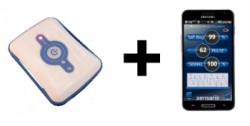 The ZAO is hotly tipped to change the way medical professionals monitor patient health as well as being available for at-home use. Currently going through the certification process, the device is scheduled to be available in the next few months. It sends vital information to the user's smartphone, tablet or desktop via WiFi, or to the hospital's server for analysis. Weighing only 310g, the compact device will make it more accurate and convenient for doctors and patients to keep tabs onbody temperature, blood pressure, glucose level and oximetry. 
High Performance Hearing Aid Microphone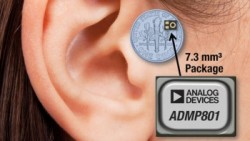 A new hearing-aid microphone has been developed which is smaller (7.3 cubic mm) and offers greater performance and stability than previous technology. The microphone has been developed by global company Analog Devices and produces very low equivalent input noise at 27dBA SPL, requiring only 17µA at 1V supply — far less than the amount of power consumed by traditional electret microphones. 
Pat O'Doherty, vice president for the Healthcare Group, Analog Devices, said: "MEMS microphones have not offered the EIN performance levels that meet stringent hearing aid standards until now. The ADMP801 MEMS microphone offers noise performance, package size, and phase and gain stability".
Micro Extrusion Wires Make Surgical Implants More Reliable
When lives are dependent on technology, components have to be super-reliable. Future wearers of pacemakers, defibrillators and other surgically implanted medical devices are set to benefit from the development of new Medispec micro extrusion primary wires reliable down to 52 AWG in a broad spectrum of biocompatible conductor materials. They are also designed for use in minimally invasive catheters and endoscopes. The wires are manufactured using an innovative precision extrusion process, giving uniform insulation-wall thickness and accurate concentricity. This creates a pin-hole free wire which will not crack like other similar products, even when coming into contact with surgical fluids. 
Do you have any hot tips for revolutionary new technology that will shape lives in the next few months/years? Let us know in the comments…
Article written by Craig Dyball founder and CEO of Electropages.com