Ready-to-Solder SAMD HCC Arduino and CircuitPython Compatible Module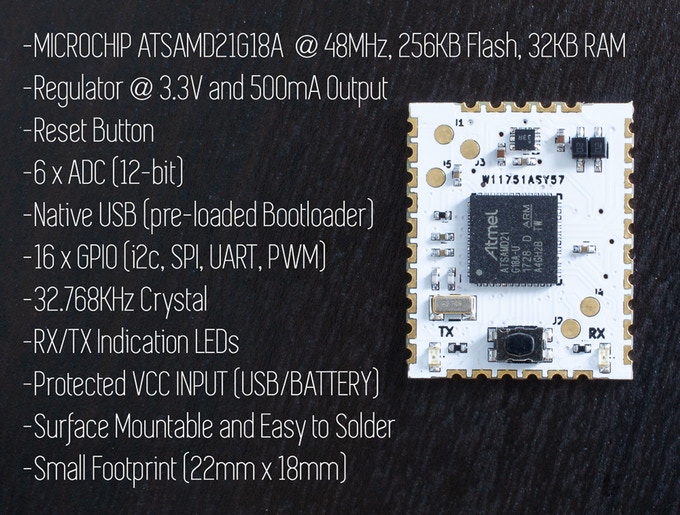 There is a ton of different development boards on the market that will do exactly what you want for any particular project, and come loaded with all of the components necessary to get them up and running.
The SAMD HCC Module enables you to create your custom PCBs with a surface-mount microcontroller that comes pre-programmed and allows you to add additional components such as buttons, switches, sensors, USB port, and arrange them in any configuration you want.
 The SAMD HCC Module is an Arduino compatible, ready and easy to solder, surface mount programmable micro-controller module. Its purpose is to simplify the process of creating and building your own custom circuit boards without the need of worrying about soldering small fragile components, while still retaining all of the benefits of a tiny, lightweight, and low power micro-controller. Think of it as a way to bridge the gap between breadboard prototypes and full on "solder yourself" custom circuit boards. This is the simplified missing link. You use the module in combination with your custom circuit boards, to solder it directly to the board. No need for programming headers, power supplies, or FTDI chips.
The module is based on the Atmel SAMD21 microcontroller. With 16 GPIO lines, six ADCs, an onboard 3.3 V regulator, and a reset button, the module has everything needed to get started — just design a PCB with the right pad layout, solder it on, and surround it with your circuitry.
Programming is done in the familiar Arduino IDE so you can get up and running quickly. The maker has a Kickstarter going for the modules, starting at $30, which will get you a pair of modules and free shipping. But he's also releasing it as open source so you're free to solder up your own like he does in the video below.