Open-Source CAT-M1/NB-IoT Shield for Arduino on Indiegogo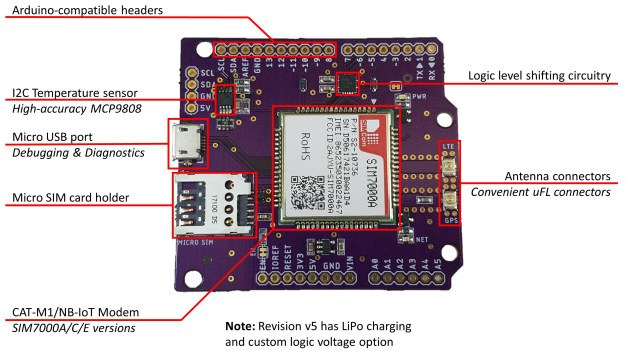 This is the first open-source cellular Arduino shield of its kind using SIMCom's latest SIM7000-series modules with LTE CAT-M and NB-IoT support, optimized for low-power IoT devices. The shield also integrates incredibly fast GNSS, and a high-accuracy temperature sensor! All this comes wrapped in a fully-documented and open-source package that is easily migrated to from 2G and 3G modules.
The board launched on Indiegogo last month with the "Arrow Certified Technology" campaign aiming to raise at least $7,000, but since it's a flexible funding campaign, mass production will happen regardless of the success of the crowdfunding effort. The $79 pledge for the shield may look expensive at first, but considering it ships with LTE & GNSS antennas, a stacking female header kit, a Hologram global IoT SIM Card with $40 of credit, price does not look too bad after all. Shipping fee does not appear to be included, and price is not mentioned, so you may have to pay an extra shipping fee when actual shipping is due around June 2018.
This LTE/NB-IoT shield is completely open-source and compatible with the Arduino Uno, Mega, and Leonardo, allowing you to easily place it on top of the host board and get started right away! You can also use the board with practically any other 1.8V-5V microcontroller as a standalone module with external wiring. Combining this shield with other things like sensors, solar panels, and wireless connectivity in tandem with cloud tools like Hologram's APIs, the possibilities are insurmountable!
Board specifications:
Cellular Module (one of the list depending on your location)

SIM7000C Cat M1/NB-IoT module with 2G/2.5G fallback for the Chinese maket
SIM7000E Cat M1/NB-IoT module with 2G/2.5G fallback for the European market
Note: The developer is also looking into SIM7000G module which should work globally, but the option is not available for now

Micro SIM card holder
GNSS – GPS/GLONASS with 2.5m accuracy supported by SIMCom modules
Antenna – 2x u.FL connectors for LTE and GPS
USB – Micro USB port for debugging and sending AT commands
Sensor – MCP9808 I2C temperature sensor with 0.25° typical accuracy
Expansion – Arduino headers (compatible with Arduino Uno, Arduino Mega, and Arduino Leonardo), extra I2C header
You can find PCB layout, documentation, software example and more on Github.