BeagleBone AI: Machine Learning and Computer Vision on Raspberry-Like Board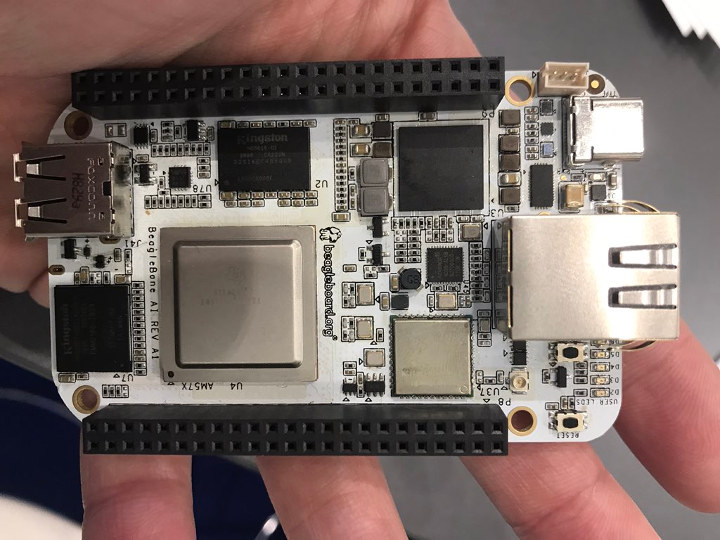 BeagleBoard.org has announced the BeagleBone AI, a high-end board for developers building artificial-intelligence and computer-vision applications. It uses a new dual Cortex-A15 Sitara AM5729 SoC that includes four powerhouse embedded-vision-engine (EVE) cores with AI capabilities.
You can think of the BeagleBone AI as a faster and much more feature-packed version of the BeagleBone Black (which can be had for around $50). The BeagleBone AI is compatible – mechanically, header support – with the BeagleBone Black, but incorporates a beefier Texas Instruments AM5729 SoC (ARM Cortex-A15 based). With that comes 1GB of RAM, 16GB of eMMC flash, Wi-Fi, GbE, a USB-A host and USB-C for power.
As indicated by BeagleBoard.org's limited product page, the SoC can run AI code on the SoC's dual TI C66x DSPs and the four new EVE cores. All these AI-enabled chips are supported through an optimized TIDL machine learning OpenCL API with pre-installed tools.
The board maker says that BeagleBone AI board will be able to automate tasks in commercial, industrial and home applications. The board will make it possible to experiment with running trained machine learning models on low-cost, single-board computers like Raspberry Pi.

BeagleBone-AI preliminary specifications:
SoC – TI AM5729 dual core Cortex-A15 processor featuring 4 PRUs, Dual core C66x DSP, and 4 EVEs
System Memory – 1GB RAM
Storage – 16GB on-board eMMC flash with high-speed interface
Networking – Gigabit Ethernet and high-speed WiFi
SB – 1x USB type-C for power and superspeed dual-role controller, 1x USB type-A host
Expansion – BeagleBone Black (BBB) compatible headers
Dimensions – 86.4 x 53.4 mm (compatible with BBB)