WiPhone: the VoIP Mobile Phone for Hackers and Makers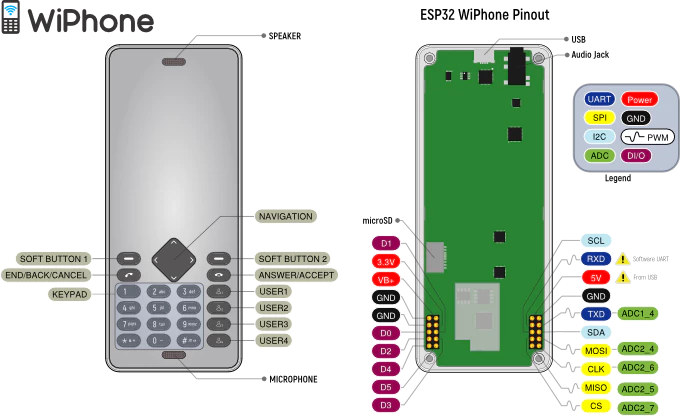 Wiphone is a VoIP phone based on ESP32 WiFi + Bluetooth SoC and it is designed to be easily disassembled and modified both at the hardware and software level.
WiPhone launched on Kickstarter a little while ago, easily surpassed the $40,000 funding goal and a pledge of $89 should be able to get you a WiPhone by August 2019.
With the WiPhone you can make phone calls over WiFi using a SiP account, send text messages, and store contact. It can be programmed using the Arduino IDE, or MicroPython, and depending on funding may also support wireless firmware updates.
Free calling starts with a SIP account. SIP stands for Session Initiation Protocol, and it's a standard way to make call over the internet. VoIP is a related term that you may have heard of. There are commercial services that provide SIP/VoIP accounts, and some of them have free accounts. Most consumers use VoIP apps like Skype and Whatsapp, but we can still use the underlying technology directly. After the campaign we'll spend more time testing services to make our software and instructions work as seamlessly as possible.
WiPhone specifications include:

SoC – Espressif ESP32 dual core Tensilica LX6 processor @ 240 MHz
System Memory – 4MB PSRAM
Storage – 16MB flash, microSD card slot
Display – 2.4″ screen with 320×240 resolution
Connectivity – 802.11b/g/n WiFi, Bluetooth 4.1 dual mode (BT not yet supported  in software)
Audio – 3.5mm audio jack
USB – 1x micro USB port for charging, serial communication and firmware updates
Expansion – 20-pin programmable header on back of phone with UART, SPI, I2C, PWM, digital I/O, ADC
Misc – 25 buttons keypad, 4 reserved for user, with all key being user programmable
Battery – 700 mAh battery good for 8 hours of VoIP calls, one week standby time
Dimensions – 120 x 50 x 12 mm
Weight – 80 grams