The MAKERS Revolution
A Thanks  to Chris Anderson,  Massimo Banzi,  Dale Dougherty  and the MAKERS of the new Industrial Revolution.
On March 9 in the Acquario Romano we heard testimonies of people, reality and Italian companies that have never stopped believing in innovation.
We like the stories of those who invest in their future without fear and looking to new technologies.
Just as we love the old craftsmen who know how to reinvent traditions. We know that it takes courage to get involved.
World Wide Rome has shown us that there are opportunities to do business.
No time to lose.
 We want this event would mark the beginning of something new.
We would like the genius of provocation Makers became a model of development.

Let's get to work.
" [World Wide Rome]
We were there and we show you the key notes of Chris Anderson, and Dale Dougherty.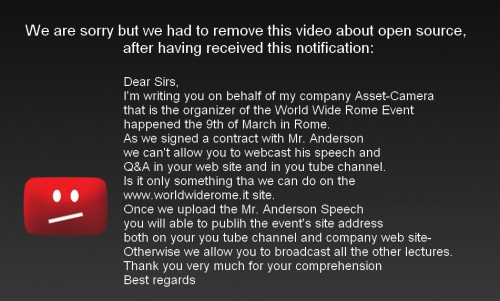 See the video covered by copyright.

 [iframe_loader src="http://www.youtube.com/embed/8k-JQ_ZSNDo?hl=it&fs=1″ height="349″ width="425″ ]