Arrow and D3 Engineering Have Launched the DragonBoard Camera Kit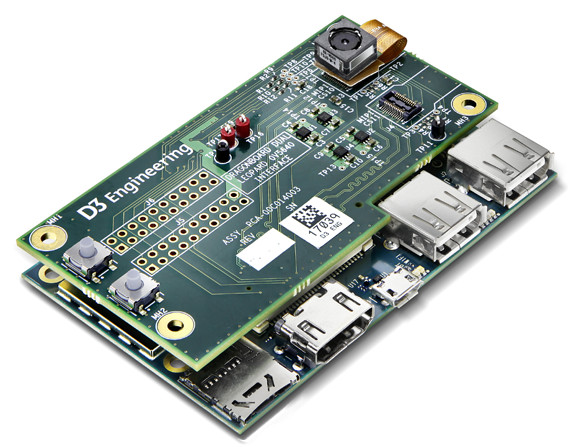 Arrow's Qualcomm-backed DragonBoard 410c was one of the first 64-bit ARM hacker SBCs, and it remains one of the most popular 96Boards models.
The quad -A53 Snapdragon 410 is accompanied by 1GB LPDDR3 RAM and 8GB eMMC. There's no Ethernet port, but you get WiFi, Bluetooth, GPS, HDMI, microSD, 3x USB ports, and the 96Boards 40-pin low-speed and 60-pin high-speed connectors.
At 85 x 54mm, the $75 SBC is about the same size as the Raspberry Pi.

Arrow and D3 have now launched a kit that provides a DragonBoard 410c with the D3 board and a miniature 5-megapixel autofocus camera module. The kit's Linux software runs on the 96Boards CE SBC's quad-core Cortex-A53 based Snapdragon 410 SoC.
The D3 camera mezzanine is designed for embedded vision applications. It can connect up to two MIPI CSI-2 cameras and enables direct access to the Snapdragon 410 SoC. The mezzanine board also presents some other interfaces in addition to MIPI-CSI: 2x UART, 2x SPI, and single I2C, PCM, and GPIO.
The Leopard imaging module is built around an OmniVision OV5640 1/4″ CMOS image sensor, and supports 5-megapixel @ 15fps and 1080p @ 30fps video. It has a 3.5-inch focal length and 10cm-to-infinity focus distance, as well as a 65-degree field of view.
The D3 mezzanine and camera kit are supported with Debian-based software and downloadable custom boot and root file system images.
Schematics are available for open hardware customization. In addition, D3 is providing optional design services including interfacing other image sensors, developing algorithms, and providing a path to production.