Arduino PortentaH7 Carrier Board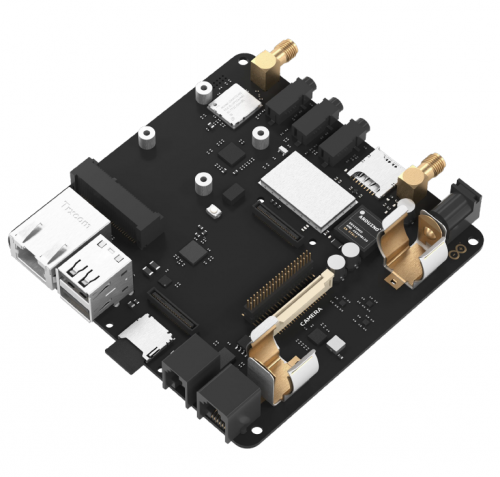 The Portenta Carrier exposes all of the extra capabilities of the processor on the Portenta board through connectors and peripherals that do not physically fit on it like connectors for USB, RJ-45, CAN bus, audio in and out lines, camera, DisplayPort, etc.
The design expands the default communication ports of Portenta boards to other wired and wireless protocols.
● Gigabit Ethernet will let you transform your board into a dedicated access point, a network drive, or even a serial-to-ethernet bridge.
● Adding a SIM card to the board makes it possible to connect to NBIoT or GPRS networks.
● Thanks to its LoRa connectivity you can design your own gateway to host your wireless sensor network.
Adding a camera to the Portenta Carrier will facilitate any kind of computer vision application.
Plus if the onboard computing power is not enough, you could enhance your board's AI capabilities by adding state-of-the-art
Machine Learning modules through the Carrier's miniPCI connector (like Google's Coral unit of computation).
Portenta Carrier specs
The carrier board contains several connectors which are relevant for a series of different application domains, from the more industrial, to the more research related.
● Gigabit Ethernet connector (RJ-45)
● USB hub in the form of two female connectors
● microSD card connector
● NBIoT/CatM1/GPRS Modem with sim card
● LoRa
● A battery connector to keep the system running on batteries (plus associated circuitry)
● A general GPIO connector
● A camera connector in the form of a flexible / faxon flat wire connector
● Connector for external DC power
● Two antenna connectors
● Three different audio-jacks for either in- or output of analogue sound
● A miniPCIe connector
● RJ9 for CAN bus
● RJ11 for RS232/422/485

Portenta H7 Carrier Board will be available to pre-order in small qty's via the arduino.cc store
– Initial small production run of Portenta H7 board available early Feb 2020
– Stock of the Portenta carrier board to follow later in Feb
Full launch of Portenta H7 board with general availability and stocks for reseller partners by end of February 2020 in time for the Embedded World exhibition
A series of blogs highlighting the capabilities of the Portenta family will run from CES to Embedded World to raise awareness and generate demand for the full launch