SensorDots Port MuxR: KVM Switch for Electronics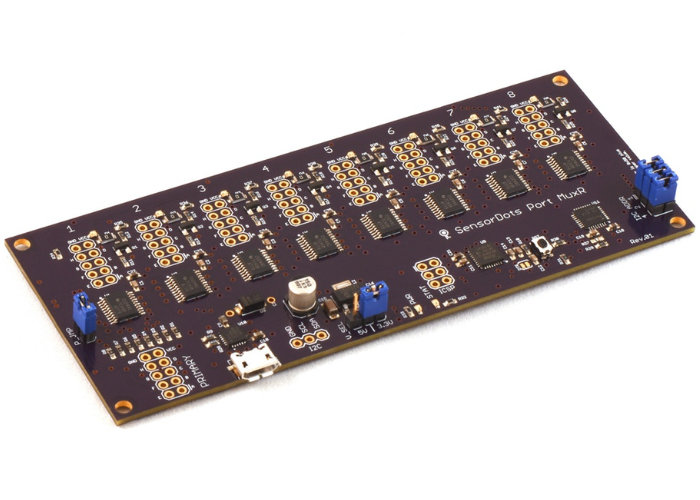 SensorDots has launched a new Kickstarter campaign for their Port MuxR KVM switch, which the company states is an 8/16-channel, bi-directional switched bus multiplexor that allows you to branch-out programming cables, logic analyzers, debuggers, and more. it has been designed to work in a similar fashion to a KVM switch for electronic projects and it can also be used to round additional functionality and connections like an AVR 6/10-pin ICSP and an Arm JTAG/J-Link adapter.
Specifications of the Port MuxR include:
– Bidirectional data flow, with near-zero propagation delay through each FET switch.
– Low ON-state resistance through switch ICs (Ron = 3 Ω typical, @ 3V) and optional series resistors on primary port pins.
– Low input/output capacitance.
– -2V undershoot protection prevents the FET (NMOS) switches from inadvertently turning on (when in off state) during signal undershoot events.
– 0 to 5V signaling levels supported.
– Supports both digital and analog applications.
– USB serial/I2C slave control interface with selectable I2C addressing (the I2C port is master mode capable too).
– Low crosstalk through switches when off.
– 8 controllable Vcc pins (with LED indicator).
– 3.3/5V Vcc selection header (with optional external power on adapter boards).
– 8×8 pin or 16×4 pin multiplexing with additional primary port.
– Included open-source .NET based control software.
– Open-source Arduino control firmware for easy updating or modification to suit your requirements.
On the software side, the MuxR supports open source Arduino control firmware, making it easy to mod or update depending on your requirements. SensorDots includes a .NET-based automation software tool kit as well, which works directly with the board's serial interface.

It is now available to back via Kickstarter with early bird pledges available from just £11.