openPicus to presents the first "Facebook Coffee Machine" at Rome Maker Faire
By
Staff
on October 2, 2013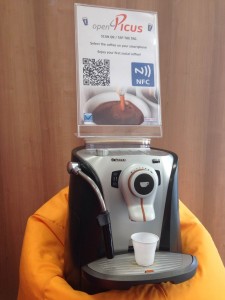 The guys from openPicus are going to present another interesting hack involving Flyport technology and objects: this time is the turn of a coffee dispenser machine:
During the upcoming European Maker Faire to be held in Rome from 3 to 6 October 2013 OpenPicus will present a world exclusive: the first coffee machine that works through Facebook.

Visitors will be able to enjoy one cup of coffee by simply bringing their smartphone and interact with the "Facebook Coffee machine": they will be able to tell their friends that their phone can eventually make coffee!

The coffee break becomes a social experience to be shared with friends, and a new way for coffee dispensing machine manufacturers to create new social promotions and interact with consumers in a truly innovative way.
 openPicus – Blog » Blog Archive » PRESS RELEASE: OpenPicus presents the first "Facebook Coffee Machine".